Hello,
a new project is born at the sky of Red Pitaya: an application called RadioBox that includes facilties for
transmitting and receiving radio signals.
The main idea behind this contributed application to the Red Pitaya ecosystem is to use the FPGA to create
blocks for doing modulation, filtering, FFT and so on by its own, without the big help of an external processor.
At the moment (2015-10-26) there are two DDS oscillators, one modulating the other, giving frequency modulation
(FM) and phase modulation (PM). Additionally an output mixer enables for amplitude modulation (AM), also.
It is in my interrest to expand for single-side-modulation (SSB) and to include filters for signal forming and noise
reduction.
Thinking more ahead: automatic data encoders and decoders would give new possibilities to design own data
transfer variants. For getting that into action I will include (R)-FFT blocks for these enhanced modulation modes.
I am very exited to have a new "winter project" to beat against the November blues, yeah!
@see here for the short introduction about the facilities included in RadioBox so far:
http://df4iah.github.io/RedPitaya_RadioBox/
@see here for the GitHub account:
https://github.com/DF4IAH/RedPitaya_RadioBox
@see here for pre-compiled binaries to put on an ecosystem-0.94 - some pictures are included here, also:
https://www.dropbox.com/sh/zi3yuyec6ogl ... j3R1a?dl=0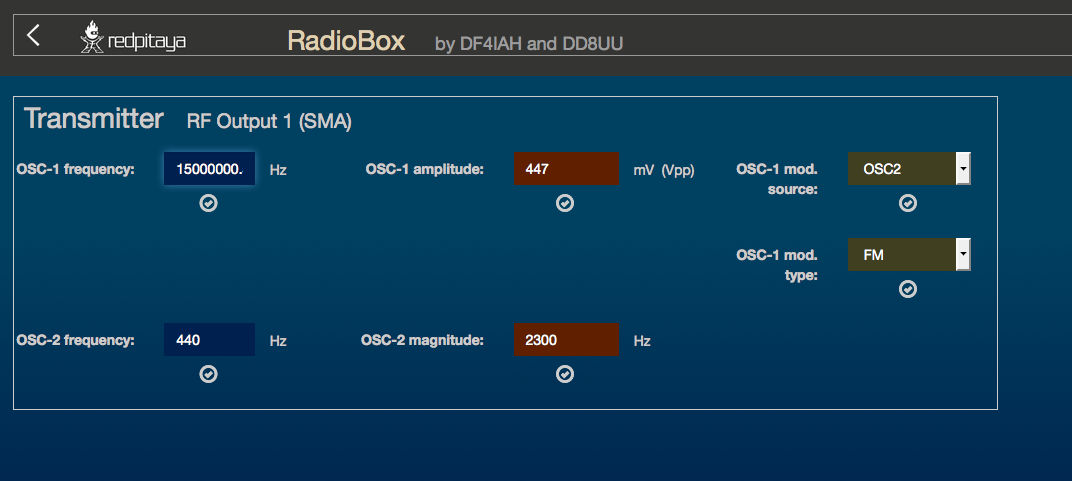 Feel free to test this (mini) application that growth rapidly.
Vy 73
Uli, DF4IAH
PS: sorry for cross-posting, I have seen this folder to late for making up my mind.